---
Our success speaks for itself
WE KNOW A THING OR TWO ABOUT TUTORING
At Jamie The Tutor, exceptional is the only option. Our tutors have the experience, skills, and knowledge to lead your child to success, starting right now.
---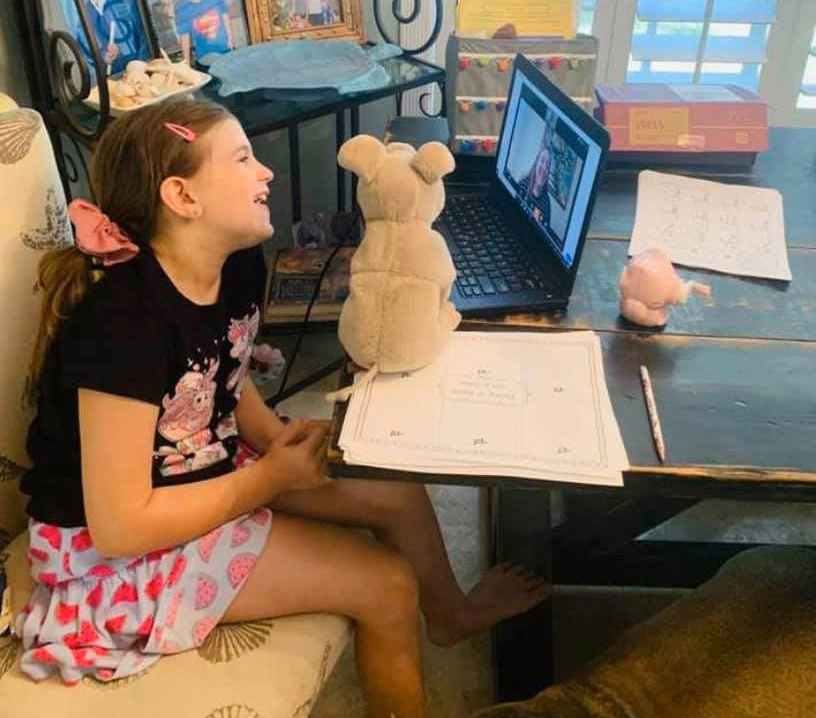 Overview of the Orton-Gillingham Approach
The Orton-Gillingham Approach is a scientific, evidence-based, appropriate, structured, multi-sensory, spiraling, scaffolding and prescriptive way to teach literacy to students when reading, writing, and spelling are challenging. It was designed to remediate students with Dyslexia but can be used to teach any child to effectively read, write, and spell. It was developed in the 1930's by Anna Gillingham and Samuel Orton. This approach to reading has been proven effective for all readers whether typical or atypical. Using this approach, students build confidence and gain the tools and strategies needed to become successful readers.
Read more about the Orton-Gillingham Approach
Wilson Reading System
The Wilson Reading System is a structured literacy program based on phonological-coding research and Orton Gillingham principles. The Wilson Reading System directly and systematically teaches the structure of the English language. Through the program, students learn fluent decoding and encoding skills to the level of mastery. The Wilson Reading System is designed for students from second grade up to adulthood and can be conducted one-on-one or in a group setting. Students who have deficiencies in phonological awareness and/or orthographic processing benefit from this type of program.
The Lindamood-Bell® Program
We offer various Lindamood-Bell® programs including the Visualizing & Verbalizing® program, Talkies® program, and the LiPs® program. Lindamood-Bell® programs focus on the sensory-cognitive processing necessary for reading and comprehension and teaches students to integrate sensory information to help them develop their language and literacy skills. Lindamood-Bell® programs can effectively help individuals from pre-kindergarten through adulthood by developing language processing that is critical to becoming a proficient learner. Lindamood-Bell® programs develop the imagery-language foundation necessary for reading, comprehension, and math.
Notice: Jamie The Tutor LLC is NOT Lindamood-Bell Learning Processes®. Jamie The Tutor LLC is NOT affiliated with, certified, endorsed, licensed, monitored or sponsored by Lindamood-Bell®, Nanci Bell, Phyllis Lindamood or Patricia Lindamood. Lindamood-Bell®—an international organization creating and implementing unique instructional methods and programs for quality intervention to advance language and literacy skills—in no way endorses or monitors the services provided by Jamie The Tutor LLC.
How We Do Math Differently
Say goodbye to those traditional methods that have not been working. At Jamie The Tutor, your child will be exposed to new ways that make learning math fun and exciting. Does your child know their math facts but struggles with word problems and computation? Is your child struggling to remember concepts, math facts and formulas? Is your child struggling to remember the rules and steps to effectively solve math problems? Math does not have to be taught only using abstract techniques. Using a multi-sensory based approach while teaching mathematics sets students up for independence when completing math tasks. Our math experts are ready to change your child's life.
Kara F.
---
"She's the best!!!"

Jamie has been working with my son for the past few months.I've never seen him so confident before about his math and reading skills. She's the best!!!
Katrina S.
---
"We did it! We sure did it!!!!!"

Throughout the entire experience which has been 1 year with my daughter and obtaining an IEP for her, Lisa has directed me in the right direction. She has kept my nerves at a minimum with her words of love and compassion while keeping my spirits up and keeping a winning spirit.Lisa is outstanding with her knowledge of the laws, regulations and special niches within the system that can help us as parents rather than being a hindrance. Thank you, Lisa, for all you have done for me and the family!I so appreciate your knowledge, your compassion and your empathy for my daughter and your fight for knowing what is right in the world of Special Education. We did it! We sure did it!!!!!
Magaly P.
---
"…but against all odds, he did it !!"

When Jamie started to tutor my son, he was in Pre-K reading level. In just 7 months, my son jumped to 2nd grade reading level, surprising his school teachers and others who believed this kind of progress was not possible … but against all odds, he did it !!I don't have words to express how grateful I am to Jamie, who not only provided my son the technics to succeed, but always believed he could ♡♡ I look forward to keep working with Jamie, and watch the amazing and unstoppable progress my son will be making ?Every kid learns differently that's why multisensory education works !! Thanks Jamie !! We love you !! ?
---
March 8, 2021
Anna Julia Cooper was an American educator, scholar, and activist. She was born in 1858 to an enslaved woman in Raleigh, North Carolina. Her father is thought to be her mother's white master. After the Civil War, in 1867, Anna at age nine was able to attend the Saint Augustine's Normal School and Collegiate Institute, a coeducational school for former slaves. She began teaching mathematics part-time at the young age of ten. Anna received a
[…]
February 23, 2021
David Murray "Dav" Pilkey Jr., known as Dav Pilkey is an American cartoonist, author and illustrator of children's literature. He was born on March 4, 1966 in Cleveland, Ohio. One of Pilkey's best known children's book series is Captain Underpants. Pilkey was diagnosed with attention deficit hyperactivity disorder ("ADHD") and dyslexia as a child which resulted in frequent reprimands for his behavior in elementary school. While sitting in a desk in the school hallway, Pilkey
[…]
February 9, 2021
Booker T. Washington: one of the most influential African Americans in United States History. He was known for showing that an oppressed people could advance through his concept of practical education and progressed ideals of cooperation between the races and the advance of African American commerce as a boon to all Americans. Booker Taliaferro was born in April 1856, the son of an unknown white man and a slave named Jane who was the cook
[…]