Multisensory Online Tutoring
One-On-One, Face-To-Face Learning3>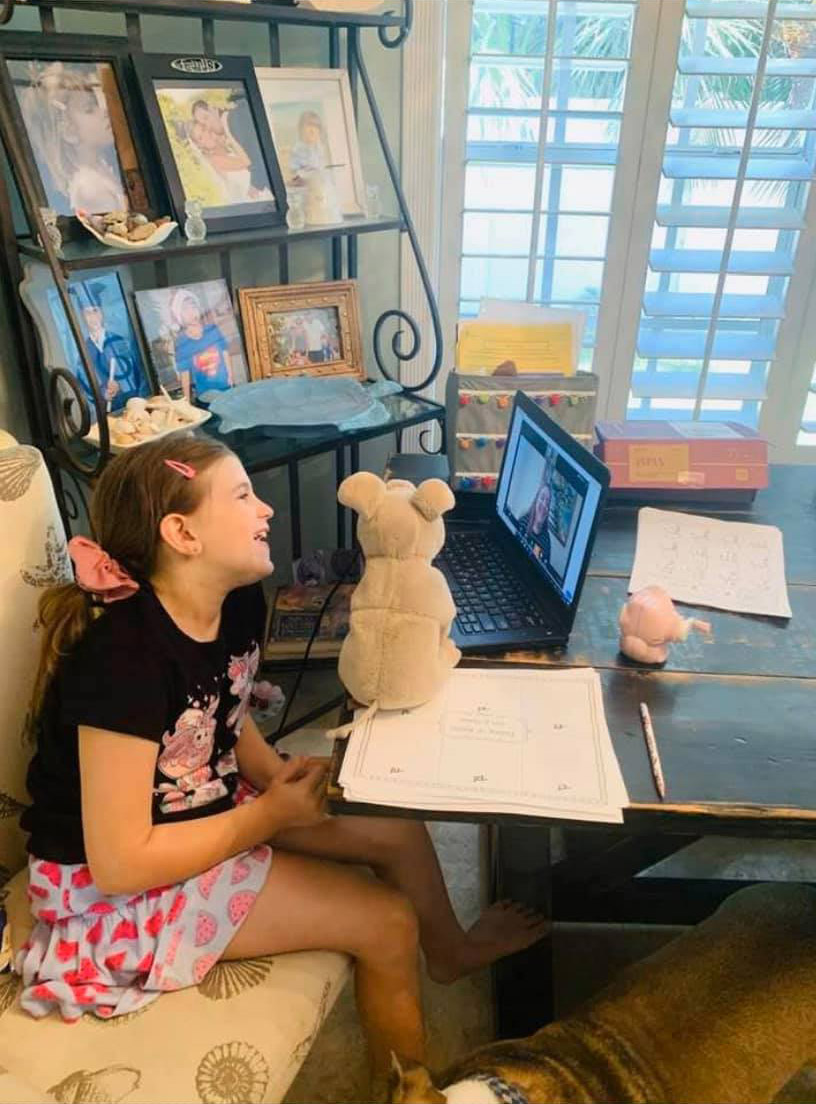 Online Tutoring that Works
Online tutoring is an emerging method that leverages technology and our unique one-on-one multisensory approach to effectively help our students reach their individual potential. We utilize simple to use software and add in our famous games and strategies to bring a fun and rewarding tutoring session to students, no matter where they are.
The same tutors that can travel to your house can also remotely visit your child, so when school is out, or you are traveling, the same level of service can be provided and an uninterrupted educational plan can be maintained. If a child is out sick or if schools are closed, many students end up at home and can fall behind on the important work that will keep them on grade level and moving forward.
Homeschooling is another area where remote tutoring can be helpful as the student is already used to working in the home environment. Traveling families, military families, and others who practice homeschooling can use our tutors to boost performance and confidence in every academic area.
Our results speak for themselves and our main source of new clients has always been from personal recommendations. Let Jamie The Tutor help your student, even if we can't be there in person. Online tutoring is easy and most importantly, highly effective.
What does Online Tutoring Include?
Online tutoring includes the same services as in-home tutoring. You get a dedicated tutor who will work with your child one-on-one. The tutor uses the same tools and strategies to offer individualized approaches and tactics. We use the same kid-favorite games and humor to keep your student focused and motivated.
Contemporary children are born using technology and adapt very well to working remotely, it's like face-time but with added features to create an interactive experience. Kids get to play with virtual games, they can see in real time the demonstrations and coursework, and they can learn and grow in ways you never though were possible from a remote online tutoring session.
Lindamood-Bell®, Orton-Gillingham Programs, and Touch Math
Jamie The Tutor can offers the same range of programs online as we do in-home. We have worked tirelessly to perfect our delivery of programs such as the Lindamood-Bell program or Orton-Gillingham program. The same trained experts deliver engaging and effective instruction one-on-one.
Online Lindamood-Bell® Programs
Lindamood-Bell® language-based programs effectively remediate children with language-based disorders. Lindamood-Bell® programs such as the Talkies® and Visualizing and Verbalizing® programs, address and remediate individuals who experience issues with gestalt imagery resulting in language comprehension deficits. Learn More about Lindamood-Bell® Programs
Online Orton-Gillingham Programs
Orton-Gillingham is a language based, multisensory, structured, sequential, cumulative, and cognitive approach to reading. Students learning with this approach can apply language patterns with understanding. The Orton-Gillingham approach was designed primarily to help with reading, writing and spelling but it can also be successfully used with students who are experiencing difficulty with mathematics.Learn More about Orton-Gillingham Programs
Online Math Programs
Using a multi-sensory based approach while teaching mathematics sets students up for independence when completing math tasks. Our students no longer struggle to grasp an understanding of what they are being taught. Our teaching style gives every child the opportunity to learn and understand concepts in a way that makes sense to them. Our multisensory math methods have been so successful in motivating and encouraging students. Confidence replaces that frustration your child has from past ineffective learning experiences.
Notice: Jamie The Tutor LLC is NOT Lindamood-Bell Learning Processes®. Jamie The Tutor LLC is NOT affiliated with, certified, endorsed, licensed, monitored or sponsored by Lindamood-Bell®, Nanci Bell, Phyllis Lindamood or Patricia Lindamood. Lindamood-Bell®—an international organization creating and implementing unique instructional methods and programs for quality intervention to advance language and literacy skills—in no way endorses or monitors the services provided by Jamie The Tutor LLC.
Get started with Online Tutoring from Jamie The Tutor